¿QUIÉN ES EVA MUÑOZ MOLINA?
El nombre de "Eva" viene del hebreo y significa "vida". Mis padres eligieron un nombre con el que me identifico plenamente, porque me considero una mujer que ama la vida: Amo a mi familia, amo a mis amigos y amo a mi trabajo.
«Soy positiva y entusiasta. Me gusta disfrutar de cada instante como algo único, vivir el presente, como regalo que es.»
Me posiciono ante la vida con los ojos del "aprendiz" para crecer y evolucionar continuamente. Me encanta estar con personas, trabajar con la grandeza del ser humano. Por ello, mi trabajo es mi pasión. Me considero una facilitadora del cambio, de la evolución y el desarrollo de las personas o equipos. Ayudo a extraer el potencial que cada uno tiene dentro, siendo cada persona o sistema protagonista de su proceso.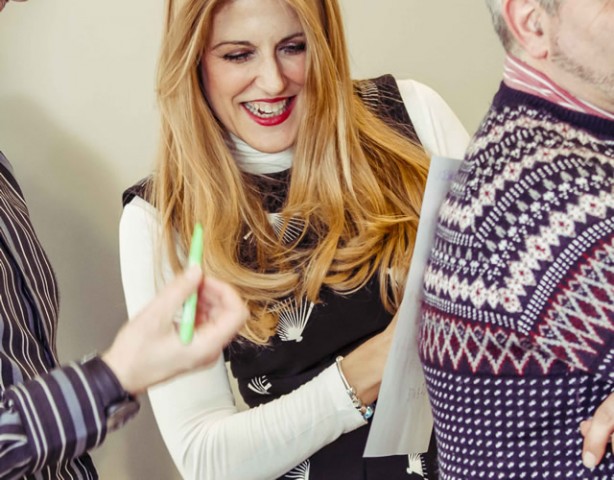 Psicóloga Organizacional por la UCM.
Coach Certificada por la International Coach Federation (ICF) en nivel PCC (Professional Certified Coach).
ACTP Coaching Personal y Ejecutivo en OlaCoach, ACTP Coach Relacional y de Equipos por ORSC,
Constelaciones sistémicas en Geiser Works, Practitioner en PNL por IPH
Certificada método LEGO® SERIOUS PLAY® (LSP), 
Coaching Ontológico con Julio Olalla, formada con Robert Dilts y John Whitmore
Supervisora, Mentora, y Evaluadora de Coaching, 
Certificada en The Leadership Circle
MBSR Mindfulness por la Universidad de Massachusetts y por UCM
Certificada en Insights Discovery
Neurocoaching y f

acilitadora  The Points of you, 

Especialista en Habilidades Directivas, Estrés y Comunicación

Practitioner en PNL por IPH
Desde hace más de 25 años me dedico a la evolución y desarrollo de las personas dentro de las organizaciones a través de la Formación (más de 30.000 horas de trabajo con grupos) y a través del Coaching (más de 3.000 horas de Coaching). La mayoría de los cursos que trabajo tienen que ver con Liderazgo y motivación, comunicación, inteligencia emocional, psicología positiva, estrés, mindfulness y gestión del tiempo, desarrollo de equipos, resolución de conflictos, procesos de evolución y de cambio. También soy Docente del Instituto para el Desarrollo del Directivo Integral (IDDI) en la Universidad Francisco de Vitoria.